About the National Register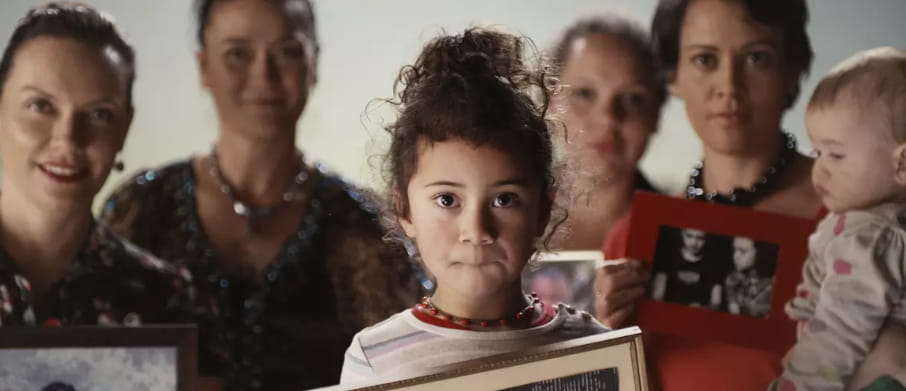 Once a patient is diagnosed with breast cancer, their information is included in the confidential National Register.
This data is used for research, to audit care, to help plan breast cancer services, and to identify where further progress is needed to improve the lives of everyone affected by breast cancer, now and in the future.
The Breast Cancer Foundation National Register holds a rich database of 38,000 patients who have been diagnosed with breast cancer between 2000 and 2019. Approximately 3,300 new patient registrations are added each year.

Data on the National Register has been collected since 2000 for use in research and audit to help improve diagnosis, treatment and outcomes.
The National Register includes patients from across the country, from Northland to South Canterbury, representing 83% of all patients diagnosed with breast cancer in New Zealand.
Of the patients in these regions, more than 99% are included in the National Register (less than 1% opt out).
New Zealand is a world leader in the collection of near-national data about advanced breast cancer (ABC) diagnosis and treatment. Source: BCFNZ Study into metastatic / advanced breast cancer.
What type of information is on the National Register?
The National Register collects information on
Demographics

Diagnosis

Surgery

Follow-up

Faster cancer treatment

Risk and additional factors

Histology

Therapies

Advanced breast cancer
National Register demographics
Based on National Register data analysed in 2012:
The majority of breast cancer patients (64%) are aged between 45 and 69 years old.
76% of breast cancer patients are NZ European, 9% are NZ Māori, 7% are Asian and 5% are Pasifika.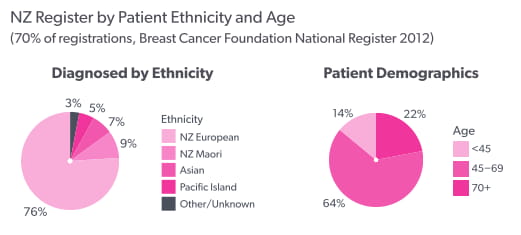 Every two years, the National Register report will highlight key statistics and trends and investigate select questions from NZ clinicians and the public.
To read published reports generated from National Register data, click below.
How National Register data is used
Data from the National Register is used for:
Research

Epidemiology and changing patterns of breast cancer
Assessing efficacy and treatment of existing and new treatments
Identifying regional and NZ-specific cancer trends
Assessing and addressing inequities in care
Indirectly enabling other research, e.g. clinical context for cancer genome research

Healthcare planning
Audits for quality measurement and improvement, e.g. BreastSurgANZ Quality Audit
Data from breast cancer patients in both public and private healthcare systems is collected from hospitals and health professionals by authorised data managers.
The more complete the data, the greater the value of the National Register for improving treatment and care in the future. Therefore, patients are followed up all their lives. If needed, general practitioners (GPs) may also be contacted by an authorised data manager for annual follow-up data, including breast cancer medications prescribed and any recurrent or new breast cancers.
The National Register is an opt-out database. If you do not want to be included please click here.
The Breast Cancer Foundation National Register operates in compliance with our ethics approval 16/NTA/139/AM03, The Privacy Act 1993, the Health Information Privacy Code and the principles of the Treaty of Waitangi.
Ethics approval is provided by the Health and Disability Ethics Committee (HDEC). The Health and Disability Ethics Committee (HDEC) is a Ministerial committee (established under section 11 of the New Zealand Public Health and Disability Act), whose function is to secure the benefits of health and disability research by checking that it meets or exceeds established ethical standards. For more information, visit the Health and Disability Ethics Committee website.
All data requests are reviewed for ethics approval before release. Only de-identified data is released. For more information see Data Request.